Ten-hut Troopers!
Gear up your squad and gain victory points to become the top player on our Tournament Leaderboards.
Before you accept this mission, carefully read the briefing below.
You can see the details for each Puzzle Trooper tournament by tapping on the tournament icon. 
The timer displayed will be the time left once the tournament has started.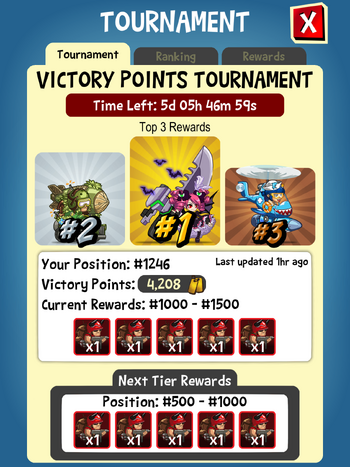 After on it you'll be brought to the tournament screen.
The Tournament Tab contains details on:
Time left until the tournament ends
The Unit prizes for rank 1, 2, & 3
Your current rank, and victory points acquired, and rewards available to your rank.
It also displays the rewards for the next rank bracket you reach.
The Tournament Leaderboard Ranking only shows the ranking for the level bracket the player is in. 
You can click on the Ranking tab to see the ranking of the other players participating.
Rewards tab displays the different rewards for each ranking position.
The duration and rewards will vary from tournament to tournament.

To participate in the tournament, simply complete any mission. Each mission completed will reward you with Victory Points. The more Victory Points you earn, the higher you rank on the tournament leaderboards.
The amount of Victory Points you can acquire per mission varies with the amount of energy you need to spend to complete the mission.
Some missions will give out double the usual Victory Points upon completion. These tournaments will be marked with a special icon.
Ad blocker interference detected!
Wikia is a free-to-use site that makes money from advertising. We have a modified experience for viewers using ad blockers

Wikia is not accessible if you've made further modifications. Remove the custom ad blocker rule(s) and the page will load as expected.